Most of us think of pain as a result of an injury or disease. We expect it to go away once we have medical treatment or the injury heals. For many people, this is the case. However for others, the pain doesn't go away. It is possible that you can have pain even without an injury or obvious body damage. This ongoing type of pain is called chronic pain. It is estimated that one in three Australians live with chronic pain.
A bunion is a bone deformity on the side of the big toe joint that forms when the toe moves out of place. Once we have obtained a diagnosis of your condition we are able to formulate an individualised treatment plan. We don't offer a one size fits all treatment solution.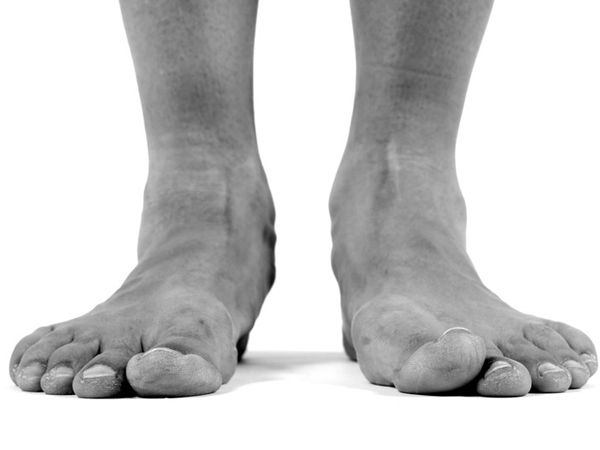 Flat feet are feet that have a lower than normal arch profile. Several bones in your foot work together to form the arches in your foot. When these bones are not stable or misaligned this leads to a collapse of the arch.
Depending upon individual circumstances one or multiple treatment options may be undertaken to offer you the best possible outcome.
Heel pain is a common foot problem seen at Coastal Foot & Leg Clinic.
The most common causes of heel pain is plantar fasciitis, (inflammation of the plantar fascia). The plantar fascia is a strong bowstring-like ligament that runs from the heel bone to the tip of the foot.
Hip pain involves any pain in or around the hip joint. You may not feel pain from your hip directly over the hip area. You may feel it in your groin or pain in your thigh or knee.
Many different problems can cause hip pain. Abnormalities of the skin, nerves, bones, joints, and blood vessels can all result in pain.
Knee pain is a common problem that can originate in any of the bony structures compromising the knee joint, the kneecap, or the ligaments and cartilage of the knee.
When the feet are misaligned it will cause the knee to move into the wrong position. This means the muscles, ligaments and tendons are constantly pulling and tearing, which will cause pain.
We've all experienced that uncomfortable ache in the lower or upper back from time to time. Back pain is reasonably common and can be caused by a variety of scenarios—sleeping the wrong way, sitting at a poorly configured work desk all day, or just plain old aging. While back pain is common and there are many reasons why we may experience it, it shouldn't be persistent.
Metatarsalgia is a broad term often used by health practitioners to describe pain and inflammation experienced in the forefoot.
Overloading of the metatarsals and their surrounding structures due to misalignment and abnormal leg and foot function is commonly the main cause of this pain in the foot.
At Coastal Foot & Leg Clinic we are constantly seeing patients present with this degenerative condition. It mainly affects the hands, spine and joints such as hips, knees and ankles and feet and predominantly gets worse over time.
Once we have obtained a diagnosis of your condition we are able to formulate an individualised treatment plan. We don't offer a one size fits all treatment solution.
Rheumatoid arthritis is an autoimmune disease that causes pain and inflammation of the joints. Other parts of the body may also be affected. Inflammation causes the joints to become painful, hot and swollen therefore movement becomes restricted. Stiffness in the joints is common, especially in the morning.
The term shin splints (medial tibial stress syndrome) refers to a painful condition that develops along the inside of the shin. The usual location of shin pain is along the lower half of the shin, anywhere from a few inches above the ankle to about halfway up the shin. Shin splints can however, effect just about any part of the lower leg.
The structure of your feet is exceptionally important.  In a perfect world, your ankle sits right above your heel, your feet point forward when you walk, your body weight is distributed equally across your foot and heel, and you walk pain free.
Unfortunately, this is not the case for many of us. Misaligned feet is an all too common issue that can lead to pain, discomfort and injury of the lower limbs. But what is misalignment?
If you require any further information or would like to make an appointment with one of our experienced podiatrists then please contact us.
Healthy feet provide the foundations for a healthy body and an active life!
Dr Peter Shelton BSc Hons. Accredited Podiatrist.